Posted by:
rvingroadtrip
in
Places we've Stayed
We left Etowah, NC on June 13th after several unexpected issues.  Our first night was spent outside of Nashville, TN at one of our favorite camp spots- Walmart.  The next day we drove to Springfield, MO and spent another night at Walmart enjoying a Redbox movie and dinner from the deli.  We decided we needed to find an rv dealer to  have our refrigerator checked since the thermometer would not go below 45 degrees, of course not a safe temperature for any food.   After many phone calls we finally found a Camping World that agreed to "work us in" the following morning, so off we went.  We spent 3 nights locked in the Camping World's parking lot and we still did not find a resolution to our refrigerator problems.  We did get to enjoy a great meal at Lambert"s Cafe (http://www.throwedrolls.com/), known as "the home of the throwed rolls." Yes, if you want a roll you have to catch it when it is thrown to you from one of the waitstaff.  There was enough food on each plate for at least two meals and both boys enjoyed catching rolls.  This was the first real meal we had eaten since leaving our house.
We decided to leave Camping World and try to find a campground near Joplin, MO so we could start volunteering somewhere in the area.  We arrived at the Big Red Barn Campground on June 18th, settled in to our new spot and started researching to find somewhere we could volunteer with kids.  On Father's Day we spend most of  the day touring the tornado area, taking pictures, and learning our way around Joplin.  The devastation is far worse in person than seeing it on the news. We arrived almost a month after the tornado hit and it almost brought tears to our eyes as we toured the area. We received an email from another traveling friend who gave us the name of the pastors wife (Cindy Wermuth) at Joplin Family Worship Center who eagerly invited us to volunteer at her church. We did not know that we would meet so many people that would touch our hearts for years to come. JFWC (Joplin Family Worship Center) was a disaster relief center which not only furnished daily necessities to those affected by the tornado but feeding hundreds of volunteers 2-3 meals each day.  The volunteers at JFWC supplied food, furniture,  and a shoulder to cry on if needed.  We worked in the food pantry area sorting, counting and replenishing food as needed.  This is where we met a dear lady named Karen who was supervising the influx of pallets of food, clothes, and miscellaneous items being brought into the church sanctuary.  The sanctuary was the headquarters for the food, toiletries, and clothing including a large quantity of children and baby items.  Brian worked outside bringing the pallets into the church where we sorted and shelved the items.  The next two weeks were spent learning how a relief center runs and how much work it is trying to help people.
We were happy to find out there would be two other traveling families in the Joplin area the same time we were here. The Lundy and Igel families joined us during our time volunteering and we had a great time afterwards swimming in the creek.  On July 3rd, we celebrated Carson's 8th birthday with the Lundy family.
Joplin will go down as one of our most rewarding places we have stopped.  It was great for our family to volunteer together for such a long period of time.  But after 2 weeks we needed to move on to our next destination.
Below is a video and pictures of our stop in Joplin.  Please remember the people of Joplin as they recover.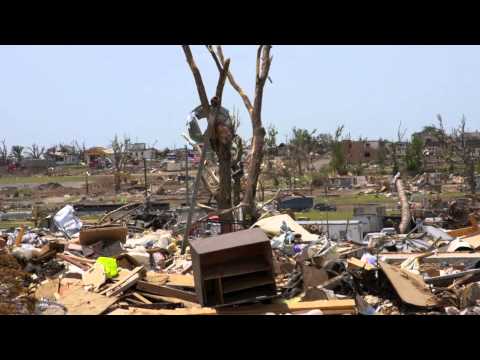 4 Comments »